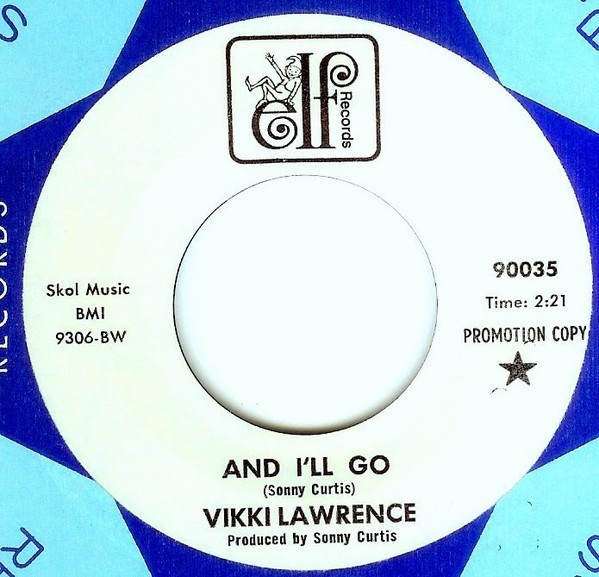 Producer, Written-By – Sonny Curtis
AND I'LL GO
Look at me and tell me
You don't want me around anymore
And I'll go
Tell me that
I don't mean anything at all to you anymore
And I'll go
If you want to say
"Our love's not right"
I'll turn away from away from you
Run away from you
Out of your life
'Cause I love you
And I want you to be free
If not
I'm not the girl you wanted me to be
Look at me and tell me
You don't want me around anymore
And I'll go
Look at me and tell me
You don't want me around you anymore
All you got to do is let me know
All you got to do is tell me so
And I'll go
I'll go
And I'll go, I'll go
Recorded in 1969, "And I'll Go" was Side-A of a two-sided single.
Credited on the label as "Vikki," Ms. Lawrence sang Side-B with her then-husband, Bobby Russell. Sonny Curtis, the composer, wrote the theme for "The Mary Tyler Moore Show."
As YouTube once said:

Out of Los Angeles, this 1969 disc is the debut single of
singer/actress/comedian, Vicki Lawrence (credited as 'Vikki' Lawrence on the label). While as a teenager performing with the squeaky-clean vocal ensemble, 'The Young Americans' under the direction of Milton Anderson, Vicki was often told of her resemblance to Carol Burnett. She wrote a fan letter to Burnett explaining this to her along with a photo and the rest is history. From 1967 to 1978 she was a regular cast member of 'The Carol Burnett Show'. In 1973 she would eventually score a #1 hit record on the Billboard chart with 'The Night The lights Went Out In Georgia'. Although she remains a 'One-Hit-Wonder', 'And I'll Go' is a lilting, Burt Bacharach/Hal David-styled tune that although it didn't chart, was a pretty decent entry into the pop music field. Written and produced by former Crickets group member Sonny Curtis.